---
Hope terrifies me. The idea makes me weak in my knees, the optimism of 'could', at the end mocks me with a sinister smile of my own doing. I have been a hopeful man for most of my life. But things change, people change, seasons change, and so do we.
For most of my late twenties, I couldn't let go. No one taught me how to, nobody told me it is difficult. Reading from books and poems is a romance of sorts. It seems easy, sometimes seductive to fall for the trap of being a romantic mess. I fell for it, I fell for it hard.
Hope is what feeds it, that sustains it's ever prowling claws which seep even deeper with every dream of reconciliation. I am petrified of it. On the surface, it may seem too sad, a distress call from a broken heart, but I now know the power in being hopeless.
One time in school, a friend casually joked about my casual affair with a fair, young 'damsel'. He said,"Saby, you are hopeless and I am helpless". I never really asked anybody for favours, and even if I did, it never was a pleasant feeling to do so. It was sublimely 'un-me'. It still is.
To this day, the quote resonates once in a while. And I am taken back to the state of mind. It is funny how our mind works with time.
The older, much stupider me is more consistent with my beliefs now. I am hopeless, hope is a nightmare; it is a living hell. Eventually, I had to let go of expectations and consequently hope. Sometimes, I am reminded of the scars from the claws, and they seem to materialise into reality. But that is fine. I hope. I am a human too. That is when I write songs. This is where most of my songs come from – the desperate, meaningless, void of hope.
---
The Song
Pass Bulaao Na is yet another quite desperate attempt. It amazes me to what extent people go in desperation. It is a fall. It is my fall.
jhootha hai mera wo khuda
manzar-tashi ka maqbara

my God is a false God,
She is a tomb of sight
---
The Artwork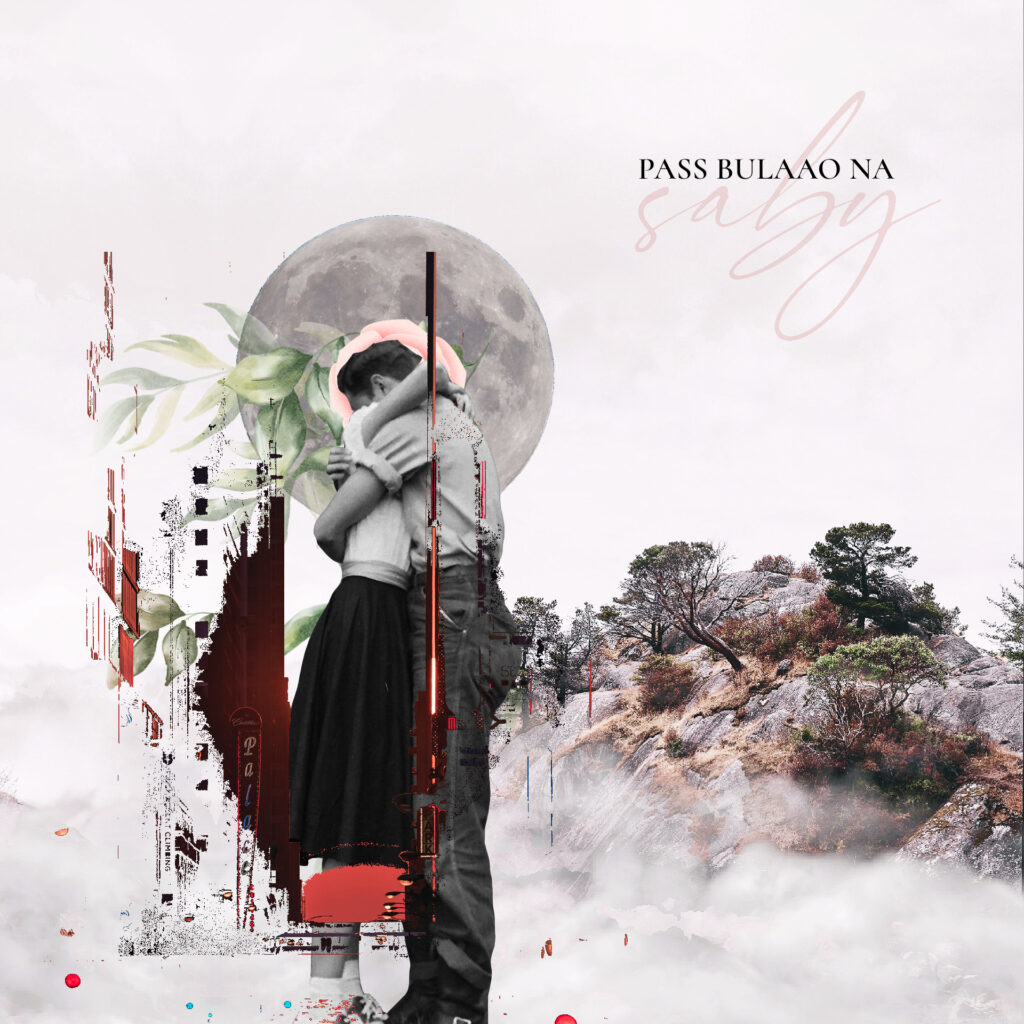 The art for Pass Bulaao Na is a broken conception of a dream. Pale white sky, rocky mountains with lone, separate trees, an earthy ground of moss, a moon pulling us together, a shattered dream. This is what I see when I sleep.
Collage is not inherently a talent, and I am not gifted. My virtue lies in organisation. I can create meaning out of nothing. My essence sees the good in people, the good in dreams, the good in tragic. And what an irony it is – a person who self-declares himself a hopeless, finds joy in misery.
haa.n mai.n akela hi hoo.n

akela hi aaoo.nga milne
teri baaho.n mei.n ghulne
tujhe seene mei.n chhupa ke laaoo.n pass
shaamil sa karke
haasil samajhke
paaoo.nga tumko apne pass
par pass bulaao na
zid se teri haara hoo.n
---
Lyrics
mera yaar mujhse kyu.n judaa
kab tak rahega yoo.n khafa
ehsaas aakhir kyu.n saza
ye pyaar mujhse na chhupa
jhootha hai mera wo khuda
manzar-tashi ka maqbara
ashfaaq behte aag ban kar
tera na koi bhi pata
haa.n mai.n akela hi hoo.n

akela hi aaoo.nga milne
teri baaho.n mei.n ghulne
tujhe seene mei.n chhupa ke laaoo.n pass
shaamil sa karke
haasil samajhke
paaoo.nga tumko apne pass
par pass bulaao na
zid se teri haara hoo.n
naam pukaaro na
khud ko kaise haara hoo.n
khafa – upset
ehsaas – feelings
manzar-tashi – to see
maqbara – tomb
ashfaaq – tears
---
Credits
Written, performed, produced and art by Saby Singh