In 2020, while on a four month trip to Kerala, Haalaat came to me. The warm and authentic hospitality of people I met was substantial, and I am indeed a very sensitive man. Experiences move me. A lot!
"How are you?" a frequent question, whenever asked, was projected with such true intentions that I would feel it every single time. I would be put in a state where I had to reciprocate this honest approach to connecting with other people. No wonder I made friends for life in Kerala.
But how was I feeling?
It has taken me three long years to explore and condense the idea into something which I think justifies the answer of how a modern day artist, more a modern day human feels.
Haalaat turned into a life altering song. Never have I ever put in so much thought and effort into exacting my feelings about how am I really doing!
hua hoo.n kalam ka baayaz alfaaz khoya hoo.n
sukoo.n, na tham sakoo.n sambhal sukoo.n ab kahaa.n
The pen has been my refuge, at loss of words I am
all sense of ground, peace and calm has long gone
Haalaat has brought me even closer to myself. The point after all was that the simple, sometimes blatant question – 'how are you' was supposed to be a personal inquiry. An intra-personal dialogue that we at intervals need to get dirty with. We have to indulge in the intimate yet universal, uncomfortable yet healing, notorious yet divine, a conversation that breaks the Ego, shatters the 'I' that we so cravingly hold on to, and cleanses our soul and mind and body and presence and brings us a step closer to who we truly are.
I sincerely hope that the song embodies the essence of our true state of affairs.
If the song made you feel something, in the comments maybe share a story, or an affair, or a thought, or just express! I would love to read and find some sense of resemblance in these ever eluding times!
Art
The artwork is a simple yet powerful picture of a dried flower. A natural miracle that has spent a millennium gracing the pages of a book that someone had so elusively put in.
Manashvi is a rebellious architect, a real photographer, an almost perfect artist and one of the most beautiful souls I have ever had the privilege of meeting. Her sensitivity, attention to detail, passion and authenticity in every single thing she does inspires.
We were in talks about the artwork for Haalaat, and she had suggested to conceptualise such dreadful yet beautiful state of affairs by a picture of a dried flower quietly hanging by a thread. The picture was just a quick iteration of the idea, and the first picture itself turned out to be a remarkable expression for Haalaat.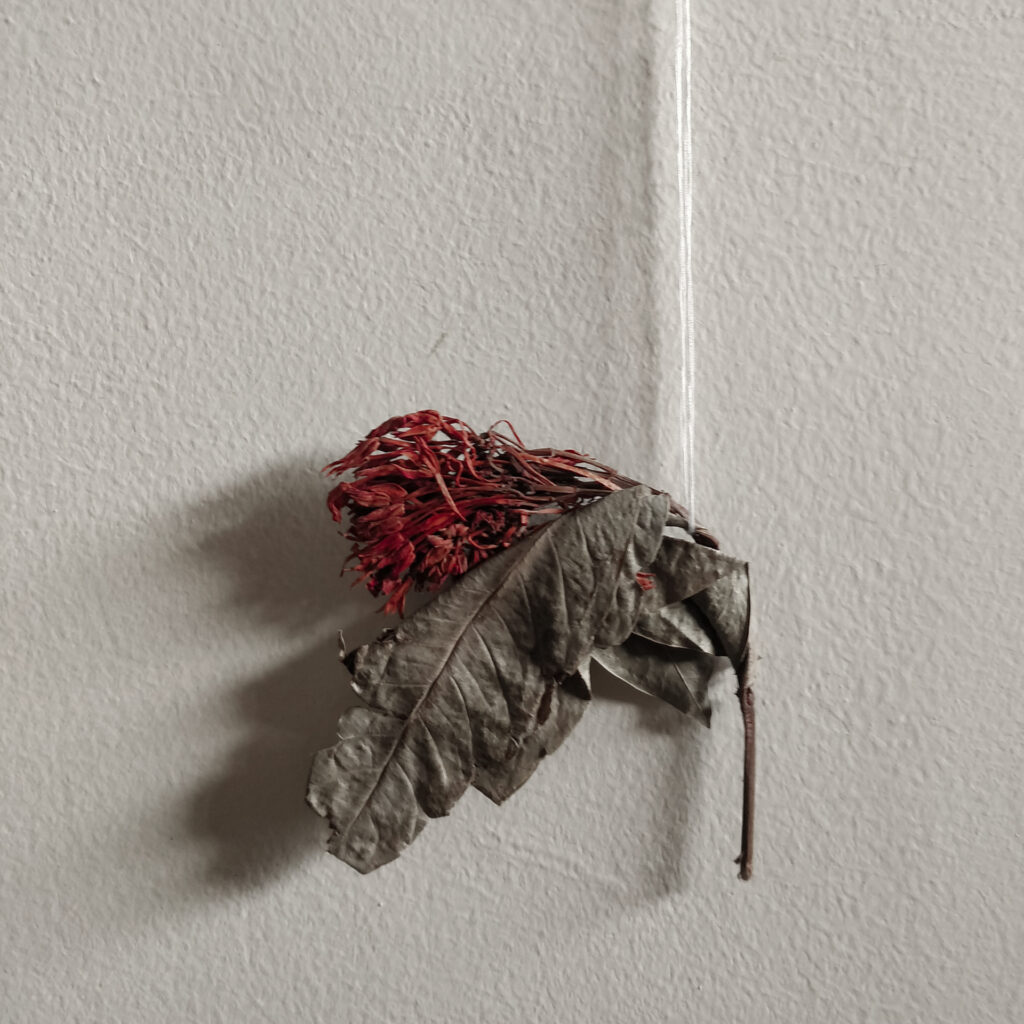 Lyrics
mere haalaat ho.n na paayei.n aaj kyu.n rawaa.n
ye zubaa.n na chal sake fisal sake kab kahaa.n
poocho na, mujhse na aaj poocho mera haal
bawaal, kin uljhano.n mei.n hai ye dil kyu.n fanaa
hua hoo.n kalam ka baayaz alfaaz khoya hoo.n
sukoo.n, na tham sakoo.n sambhal sukoo.n ab kahaa.n
poocho na, mujhse na aur poocho kya hua,
kyu.n hua inn sawaalaat ke jawaab janoo.n naa
door khud se bhi to hua hoo.n
ye na poocho ke juda kyu.n
khud mei.n rehne ki kaisi chaahat
seh sakoo.n na ab ye aadaat
---
Credits
Written, performed, produced by Saby Singh
Art by Manashvi
---

If you like what you read, and would like to stay connected – I sometimes send a weekly newsletter about all events, essays, music, workshops, gigs, etc.

Consider signing up. Thank you for your time.